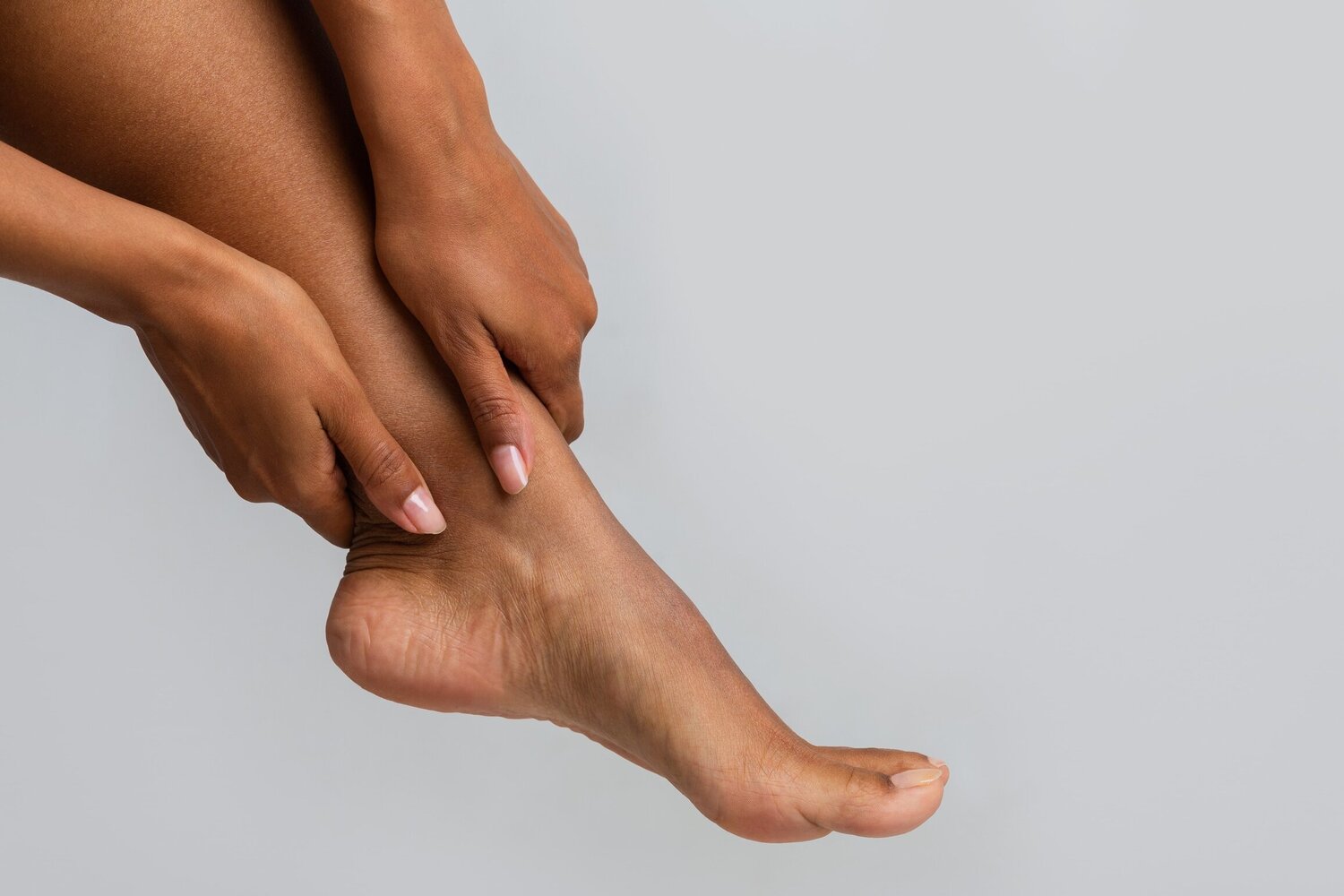 New Year - New Feet: Cure Dry, Cracked Heels for Good
Welcome to 2021— a brand new year! What resolutions have you set for yourself? We hope they include healthy lifestyle changes, in addition to the usual goals that we often set for a new year. It's all about the small, ongoing changes that can help us evolve over time into our best selves. That means a more vibrant, healthier YOU.
Dry, cracked feet can be an ongoing battle for many. This year, we want to challenge you to add "healthy feet" to your list of 2021 goals. In addition to a healthy body and mind, the health of your feet is just as important - and often overlooked.
Let's start the year off on the right foot (pun intended) by finding a solution to your dry, cracked heels.
How to Heal Dry, Cracked Heels
Getting your feet to a healthy state and healing your dry, cracked heels can be a challenge for many. However, being the foot experts we are, we're here to provide you with the tools and guidance to heal your dry, cracked feet for good!
First, let's start off with the basics. For this, a proper foot care routine is a must. We suggest first addressing the root cause of dry heels and then adopting a foot care regimen, using the specially-designed products that we recommend.
What causes cracked heels?
Dry. cracked feet and heels can have a number of causes. The first reason includes an underlying medical condition such as obesity, diabetes, eczema, hypothyroidism, Sjögren's syndrome, juvenile plantar dermatosis, and infections such as athlete's foot.
However, dry cracked feet are most often the result of other factors. These include current weather conditions, wearing ill-fitting footwear, or frequently walking around on hard surfaces like hardwood floors. These factors don't inherently cause dry, rough skin on your feet, but they can be a major contributor.
The great thing, however, is that these "problems" are fairly easy to address with a little awareness and effort.
How to Prevent Dry, Cracked Feet
Not only are dry heels unattractive, but they can also be incredibly uncomfortable. Is there anything worse than tossing and turning in bed, unable to get comfortable because your scratchy feet keep catching on a blanket? I think not!
Our goal is to put an end to dry, cracked feet once and for all! To help, we've put together a few recommendations to heal and protect your cracked heels.
4 Ways to Heal Dry, Cracked Heels
Simply speaking, it's important to treat your feet like the champions they are. They support you ALL DAY LONG — take a load off and pamper them every once in a while!

Give your feet a chance to soak in a warm tub periodically.

Exfoliate your heels on a regular basis to remove dead, dry skin. We recommend our Multi-Acid Exfoliating Treatment Pads (for heavy duty exfoliation) or our Resurfacing Toner Pads (for daily maintenance). You'll be amazed at the results!

Follow up on your exfoliating treatment by gently applying a pumice stone like our Exfoliating Natural Volcanic Pumice Stone. It fits comfortably in the palm of your hand and will easily buff away the loosened dry skin on your feet.
If you follow these four easy tips, you can say buh-bye of dry, cracked heels in no time!
Stick to a consistent routine
Most important than any one treatment, however, is developing a consistent foot care regimen and sticking to it. Making a habit of treating your heels once in a blue moon is good, but it won't produce the same great results as regular and ongoing care.
Not to toot our own horn, but this what we are all about at Roots & Bloom. Our foot therapy products are specifically designed to heal, protect and soothe your feet. To help guide you on your foot care journey, we've put together a list of our products that will help you achieve the soft, smooth feet you desire.
Roots & Bloom Products to Heal Dry, Cracked Feet
Our Roots & Bloom foot care products are all-natural and guaranteed to solve your skin problems, beginning at the root. Here is a list of the products we recommend to help heal your dry, cracked feet and reveal beautiful, smooth feet in no time!
Our ultra light-weight Ultra Hydration Oil oil is the perfect remedy for dry feet. This hydrating foot oil has an exotic scent, with an elegant, liquid velvet feel when applied. With pumpkin seed, jojoba, and marula oils providing essential fatty acids and antioxidants, it effectively hydrates dry, cracked and rough feet.
Nourish dry, cracked feet with this feather-light serum, formulated with a power-blend of 5% Niacinamide (Vitamin B3), Hyaluronic Acid, Aloe Leaf Juice, and Avocado Oil. Our potent foot repair serum deeply enhance your skin's moisture, while smoothing and balancing foot texture.
Our favorite exfoliator to cure rough feet - the BHA Resurfacing Toner Pads. The gentle foot exfoliating pad removes dry, dead skin to reveal feet that are soft and velvety smooth.
With consistency on your side, coupled with the right products to nourish and repair, your feet can stay smooth and sandal-ready all year long!